Tips on color combinations in a room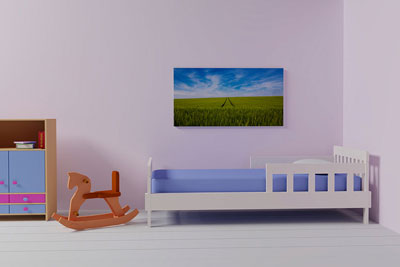 The effect of each individual color also depends heavily on the environment in which it is seen. The colors almost never appear in isolation, mostly in combinations of several colors that arouse certain moods.
The table below lists the colors that are often used as base colors in the room. Some variants of the additional colors are specified for each basic color. Sticking to these tips you can make the interior of the room effective and harmonious.
White is very popular as the base colour in the interior. You can say it is the ideal combination color in the rooms, because white can be combined with all colors and gives the room that certain extra. White is also often used as a separation between the color elements and for contrast. The murals and decorative elements can then be designed in almost any color.
Since black looks gloomy and heavy, it is not recommended to use it as a base color, to be used only as a decorative element, separation between the color elements and for contrast. In this case, it has an inspiring effect, adding elegance, depth and excitement to the room.
Bedeutungen und Wirkung der Farben
Base color
Additional Colors
Fits rooms

Gray

Other shades of

Gray

,

White

,

pink

,

magenta

,

violet

,

Yellow

Living room
Bedroom
Hallway

Brown

beige

,

White

,

pink

,

Green

,

Gold

Excellent for cozy and cozy atmosphere
Earth tones such as

ochre

or

Siena

can be used in almost any room, especially: li>
Bedroom
Living room
Kitchen
Hallway

Lilac

Orange

,

Golden beige

Bedroom
Children's room
Kitchen

Beige

Brown

,

Green

,

White

Living room
Bedroom
Kitchen

Green

White

,

yellow

,

Blue

,

Brown

,

Orange

,

Red

Ideal in workrooms, but can be used well in almost any room
Children's room
Bedroom
Living room
Kitchen

Red

Black,

White

,

silver

,

Light Blue

Rather, it only has to be used as an impulse in rooms
Appetizing and contemplative
Best for rooms with a lot of movement like:
Kitchen
Living room
Hallway
Playroom

Orange

Purple

,

lilac

,

White

,

Blue

,

light blue

,

Turquoise

Exudes conviviality and coziness
Can warm a room, stimulate creativity
The optimal color for rooms with little daylight and for:
Kitchen
Dining room
Children's room

Yellow

White

,

light blue

,

Red

,

Green

,

Magenta

Makes small spaces look bigger
Can warm rooms invitingly and brighten dark tones
Gives the room a friendly, lively and cheerful atmosphere
Kitchen
Study
Children's room

Blue

Gold

,

yellow

,

Brown

,

Gray

,

Bordeaux

Makes small spaces appear larger
Preferably for spaces dedicated to relaxation, especially for:
Bedroom
Living room
Children's room

pink

White

,

Gray

,

Green

,

Brown

,

Bordeaux

The most suitable color for bedrooms
Ideal for girls nursery
Weitere Tipps zur farblichen Gestaltung des Interieurs
A few more interior design tips to give your home a harmonious and individual look:
First determine the combination of colors - a base color and one or two additional colors would be ideal.
Follow designer advice that you can find in catalogues, specialized magazines and as color charts.
It is best to choose those basic colors that you personally find very pleasant and not disturbing. Then you can start with the details - murals, curtains, lamps, decorations, etc. experiment freely. Because it's easier to change small details than to change the wall paint or furniture.
Continue reading:
Back to home page