Canvas prints: works of art for your ambience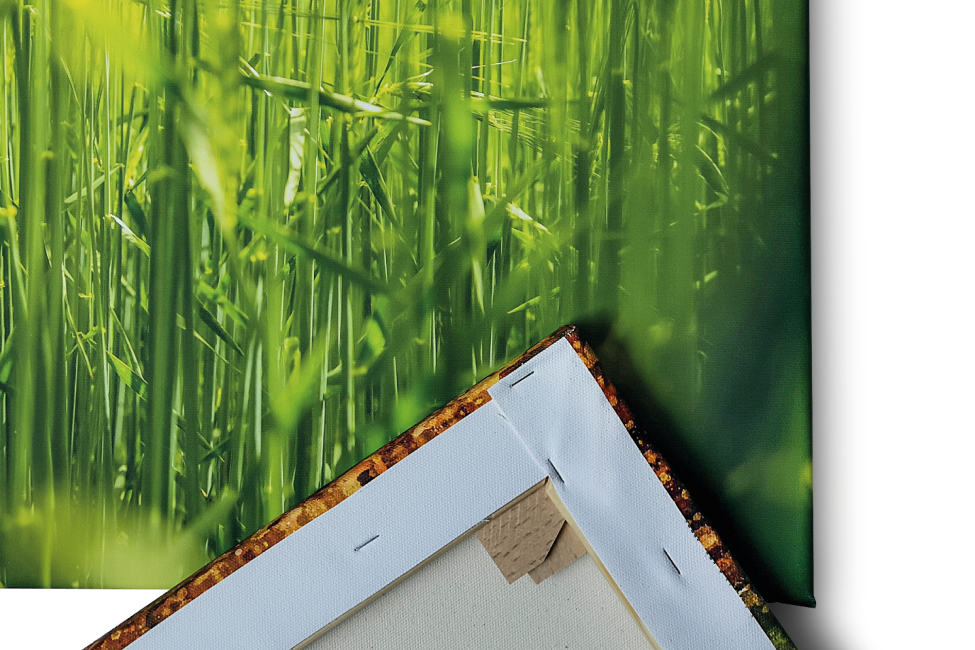 Canvas, also called Canvas, is a fabric made from cotton or linen. Many years ago artists used canvas for their paintings. Nowadays it is possible to get this high-quality type of picture as an art print. Thanks to the UV and aging-resistant colors and the fine structure of the fabric, the canvas picture looks like an authentic art painting. The colors are absorbed by the fabric and retain their radiance for a long time. Whether professional photos, modern illustrations or holiday photos - after printing on canvas, every picture becomes a high-quality work of art.
Long-lasting classics: production of canvas pictures
Before printing, the canvas is first primed, since the primer contributes significantly to the color effect. It also makes the fabric water-repellent and scratch-resistant. Now the rolls with the canvas are clamped in a special printer, the motif is printed on it. Please note that due to a specific fine structure of the fabric, the For technical reasons, the print quality of canvas printing is somewhat lower than, for example, paper printing or acrylic glass printing.
After printing, canvas is cut to size. The printed canvas should be slightly larger than the print image ordered, as it is stretched over a stretcher frame. Thanks to this production process, the sides of the mural are also printed, creating an enchanting 3D effect. Motif edges can be folded, stretched or mirrored if desired. The stretcher frame is usually made of durable softwood. The canvas picture does not need an additional decorative picture frame.
Maintenance of the canvas prints is very uncomplicated. Simply dust them off regularly with a dry or slightly damp cloth. And don't hang the mural in direct sunlight. By following these simple rules, you can enjoy your canvas artwork for years.
Paintings from the printer - high quality print on canvas
A fine work of art adorns every home, but paintings by an artist few people can afford. Thanks to the print on canvas, nothing stands in the way of a classic ancestral gallery, a calming still life or a dreamy landscape picture.
Canvas prints: fine selection of beautiful motifs
At art-trash.net you can buy canvas pictures on various topics directly online. Whether landscapes, cities, religion or abstract motifs, whether in a brilliant play of colors or in stylish black and white, whether for the home, office or practice waiting room. Our fine selection of motifs is constantly expanding. Please use the filter bar on the left of the website to find your dream motif by subject, color scheme or author.
You have the choice between square and rectangular Canvas pictures in formats from 20 x 20 cm to 160 x 80 cm (WxH) as well as breathtakingly beautiful Panorama canvas prints (format 2 : 1). You will receive your work of art already stretched, reliably packaged and ready to hang on the wall.
Print your own picture on canvas
Would you like to bring your special life moments to canvas? Whether wedding, Birth of the child, first day of school or a photo of your loved one - let art speak about your happiness. We print your own photo in top quality as a canvas, stretch it on the appropriate stretcher frame and provide it with the appropriate suspension. You can upload your picture directly online and have it printed on canvas. For optimal printing results, the photo format should be .jpeg, .tiff, .eps or .pdf with an image resolution of at least 1500 pixels can be created.
Art comes into the house, as delicate as a breath. Looks around silently. And stays. And creates a special atmosphere in the room. Adorable. Dignified and unassuming. Her name is canvas painting. If you have any questions, our specialist team is at your disposal. Contact
Back to home page