Gallery Print - high-quality acrylic glass images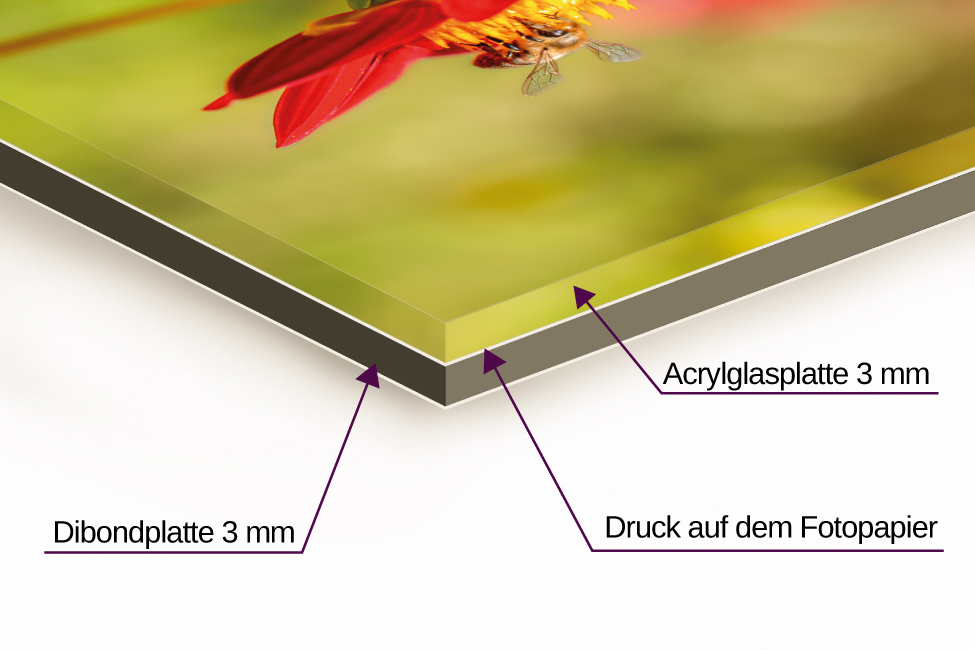 Acrylic glass or Alu-Dibond? Brilliant, crystal-clear optics or robust stability? Would you like to have a mural printed and you don't know which material to prefer? Don't be spoiled for choice, these two! These two high-quality materials complement each other perfectly and create an extraordinary type of picture - gallery print, also called gallery bond.
Gallery Print: The art of combination
acrylic glass is a crystal-clear plastic with a brilliant appearance, it is unbreakable, insensitive to scratches and UV radiation, light and inexpensive. Alu-Dibond is a composite material with two robust aluminum layers, between which there is a 3 mm thick stable polyethylene layer. This material is very flexible, dimensionally stable and washable.
And now the "collaboration" of the materials begins: first the photo is printed on the exposed photo paper and laminated onto the 3 mm thick aluminum dibond plate. The printed photo paper is then covered on the front with the 4 mm thick acrylic glass pane. Acrylic gives the photo a high-gloss, brilliant look with a 3D effect. Alu-Dibond keeps the shape stable, even if the photo is printed in large format. Impressive and expressive – the Gallery Print sets beautiful accents and enchants your guests, whether at home, in the office or in the doctor's surgery.
Gallery Print: important moments in life in the best photo quality
The gallery print gives the photo a breathtaking luminosity, unusual color brilliance and depth effect, regardless of the motif - whether a family or holiday photo, A portrait of a child or a photo of your favorite cat, a picturesque landscape or a magnificent city skyline. Depending on the photo motif, different formats and sizes are possible.
The classic 3:2 format shows portraits and wedding photos in the best possible light. Group photos look best in format 4:3. The photos of animals and plants look particularly harmonious on square images. For landscape shots, we recommend a wide format 2:1 (panoramic image).
Order gallery prints online
In our online shop you will find a fine selection of beautiful photo motifs. Be inspired by images in various themes: whether nature, people, travel, etc. By filtering in the left pane, you can search the murals by theme, color scheme, or author.
You are also welcome to have your own motif printed as a gallery print. Thanks to high-quality acrylic glass, stable aluminum Dibond and premium-quality photo printing, every picture is particularly expressive.
In order for the gallery print to meet the highest standards, one should observe the golden rule: The larger the desired mural, the higher the image resolution should be. Before printing your desired motifs, we check the quality of the submitted image files and let you know if the image resolution is not sufficient for the desired print size.
If you have any questions, please contact our specialist team, we will be happy to advise you. Contact
Back to home page