Placing murals correctly - tips and tricks
In order for the murals to come into their own, the correct placement in the room is important. One should first plan the arrangement of the pictures and only then hang the pictures.
On this scheme you can see favorable and unfavorable arrangements of pictures over a piece of furniture. A canvas picture should by no means be wider than, for example, a commode over which the mural hangs.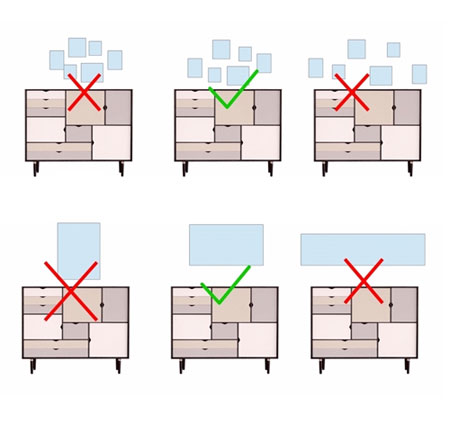 Of course, the image must not appear lost. A narrow, high mural above a sweeping living area has no effect. panoramic canvas prints are more popular there. Alternatively, you can hang a multi-part motif or complementary pictures over the sofa.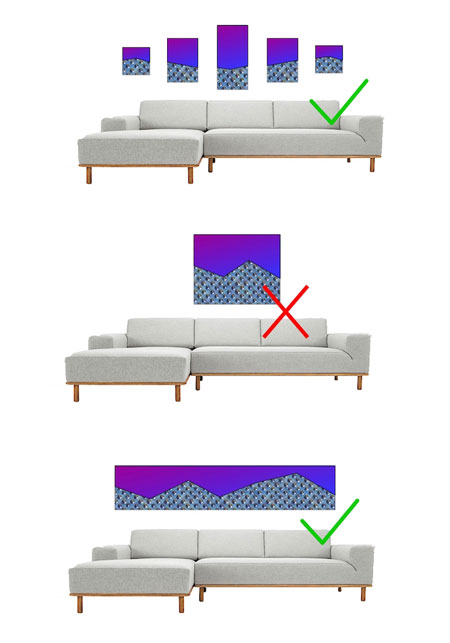 By the way: Neither hooks nor eyelets should disturb the overall impression. Ideally, the suspension should be concealed on the back of the picture.
Which murals to hang in which room?
Images reminiscent of ancestors or certain events are not ordinary room decorations. They have meaning for you, while strangers attach no feelings to the recordings. Therefore, such canvas prints are more suitable for private rooms. For example, you can set up a reminder wall in the bedroom or in the children's room. There you can store all the pictures that have a special meaning for you and your family. You can upload such images online and have them printed.
Large-format animal or flower pictures, arranged still lifes or landscape shots are the classic room decorations. They can be hung in any room - whether in the living room, in the hallway or in the bedroom. Be sure to, that the pictures match the furniture you are presenting them over. Tip: If you can't find a nice motif in your own photos, choose one from the well-assorted collection.
Back to home page