Alu-Dibond pictures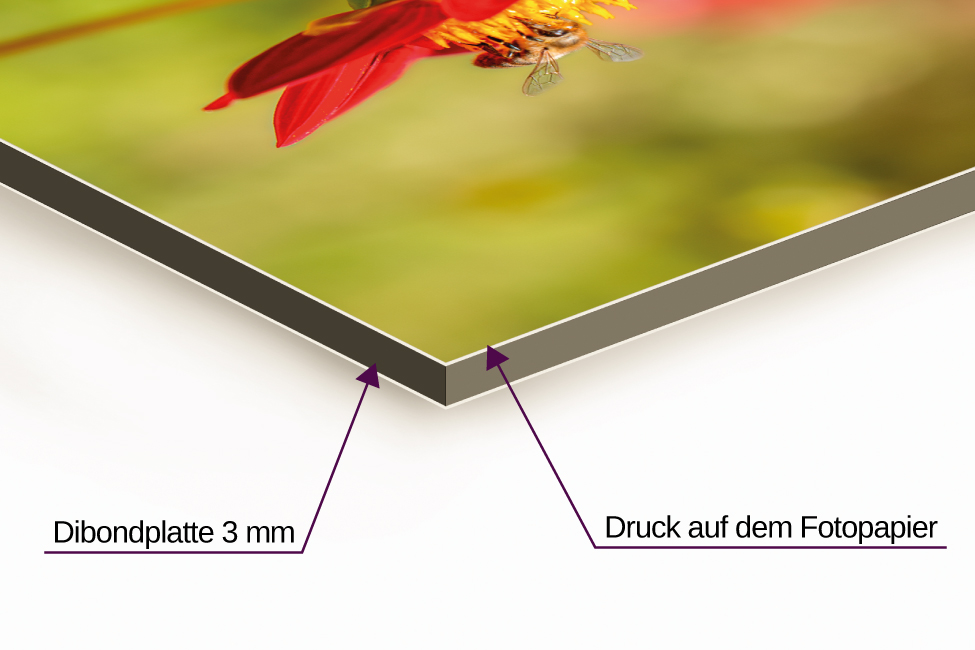 The wall pictures on aluminum Dibond panels are becoming increasingly popular. The Alu-Dibond is a composite material with two robust aluminum layers, between which there is a 3 mm thick stable polyethylene layer. This material is very flexible, weatherproof and washable, it keeps its shape even in larger formats. The aluminum pictures are particularly light, easy to hang up and very thin.
Print Alu-Dibond murals
Modern printing processes enable precise and razor-sharp reproduction of the photo motif on Alu-Dibond in art galleries and exhibitions. Design your masterpiece in fine art printing.
FineArt print means the printing of the motif on premium photo paper, which is then sealed with a lamination – satin or glossy – and laminated onto the Alu-Dibond. Thanks to the lamination, the mural is safely protected from scratches, moisture and UV light. Your picture gets the luminosity of the colors and the elegant look and becomes a real eye-catcher in your environment.
Print your own image on Alu-Dibond
We would be happy to print your own photos and images on aluminum plate using the fine art printing process that suits you best. Send us an email with the photo and your ideas to info@art-trash.com. We offer image sizes from 20 x 20 cm to 180 x 120 cm. If you wish, we can supply the Alu-Dibond murals fully assembled – including wall brackets (with hanging plates or aluminum hanging system) so that you can attach your work of art to the wall straight away.
Order aluminum prints online
Browse through our fine selection of motifs on various topics: Cities, nature, people, cars & traffic, food & drink and much more. You can use the filter bar to search for the images by colour, subject or author.
Whether semi-matt or glossy, small or large, monochrome or colorful - aluminum Dibond pictures convince with high-quality material, razor-sharp print results and long-lasting quality. If you have any questions, our specialist team is at your disposal: Contact
Back to home page